Free Crochet Baby Accessory Patterns
Crochet is a fun, versatile art form that can create everything from simple doilies to complex tablecloths. It is a great way to keep your hands busy. It's also ideal for new or beginner crocheters since it's much easier to work with than knitting, and you can create durable customized items. Crochet is often used to make blankets, but it's also just as useful for making baby clothing and accessories. Whether you're looking to add personalized flair to a gift or stock up on handmade baby accessories, these crochet baby accessory patterns will help you get started.
Crocheting is one of the best skills to have! It's a great way to keep your hands busy and make useful items simultaneously. Here are some adorable crochet baby accessory patterns that you can complete in hours rather than weeks or months, like sweaters or blankets. With these easy patterns, you can make adorable accessories for your baby in a snap! Their little outfits need a few finishing touches to go from drab to darling. This collection of crochet accessories includes hats, scarves, headbands and more. Learn how to create adorable headbands, bracelets, and rompers for your little ones today!
Here are 20 crochet baby accessory patterns that will keep your little angel looking adorable while keeping you looking stylish.
Benefits of Crochet Baby Accessory Patterns
Crochet baby accessory patterns are a great way to make your own baby accessories. They're easy, inexpensive, and can be made in just a few hours. You can use any yarn you want, depending on the look you want to achieve. Here are some of the benefits of crochet baby accessory patterns:
You can make them as gifts for friends or family members who have recently had babies
You can sell them to others who want to buy them
They're easy to care for, so they will last for years if properly maintained
Baby Crochet Hoodie Jacket Pattern
This Pattern is the perfect project for beginners who want to add a pretty piece to their wardrobe. The crochet pattern includes a tutorial that is super easy to follow and makes a beautiful jacket. You can choose the color that suits your baby best! This little hoodie will be perfect for chilly Autumn days or as a layering piece for diapers. This jacket is also reversible, so if you make a mistake, you can turn it inside out, and nobody will know. You should make this cute baby crochet hoodie jacket perfect for everyday wear and looks great on little ones!
Rose Garden Cardigan Pattern
This Pattern creates a stylish pullover piece you'll love to wear. Wear it with jeans, or dress it up with a stunning cardigan. This easy-to-wear, open-work sweater features an antique rose print and front buttons. This design allows the crocheters to try out several different techniques. The Rose Garden Cardigan is a classic with a modern twist. This cozy sweater will keep you warm and stylish, whether shopping at your local farmer's market or relaxing with friends. This is a beginner crochet pattern for those looking to expand their skills. It is perfect for beginners and advanced crocheters alike.
Crochet Crown Earwarmer Newborn:
This is the perfect accessory to keep your little one warm while covering their head. This ear warmer is designed to keep your baby's ears warm and protected. The crocheted design helps to prevent heat loss through the delicate ear area. This newborn crochet hat has a sweet design that will look great on any babe. Get this crochet beanie to create a cute newborn outfit with matching accessories! The unique design of this crochet cap looks adorable on all heads, from newborns to toddlers. This super cute and stylish ear warmer keeps your little one warm and cozy.
Rebekah Baby Blanket Free Pattern
It's a baby blanket you'll love, and so will your little one. The Rebekah Baby Blanket is easy to work up but packs a lot of style and beauty into the final result. The texture, and striping pattern, are versatile; wear it as a decorative accent on your sofa or use it as a canopy over a crib. Either way, everyone is sure to admire this heirloom-quality blanket throughout generations. This is an easy-to-crochet baby blanket featuring a stunning pattern. It's worked in one piece and is suitable for beginners.
Baby Dungaree Set To Crocheting
If you love to crochet, this set is perfect for you. This cute baby dungaree can be a great gift for new babies and their parents. It's a beautiful product that will look fabulous in any nursery. This set is super soft for comfortable wear and warm for your child. This handmade baby dungaree set comes in many different sizes, and you can choose the size accordingly. This is a perfect gift you can give your loved ones as it is one of the most comfortable clothes for babies and toddlers.
Baby Doll Puff Shell Afghan:
This beautiful afghan with a lovely pattern is becoming popular in today's crochet design. It's sure to be a favorite of all the little ones out there. This afghan provides a special place for your children to rest their heads. This is made of soft material and features a shell pattern that will keep your little one feeling safe and warm. The reversible design allows you to change the look of the blanket whenever you want. With its cute, easy-to-make design, this great beginner crocheting project comes together quickly! This will keep you warm or snuggling on the couch with your baby on those chilly nights.
Crochet Slouchy Baby Beanie:
This is a perfect crochet baby beanie for your little one. It is super easy to make and also has easy to follow step by step tutorial. This crochet baby beanie will be a great addition to your collection. This simple, stylish hat is perfect for babies of all ages and seasons. It can fit perfectly with minimal stretch or oversized for extra warmth and style. This crochet slouchy baby hat is a popular choice among moms and children. The timeless style makes it great for newborns and toddlers, while the design features make it practical for warm days.
Free Crochet Pattern Classic Baby Bib:
This free crochet pattern is perfect for new moms. Using only a few basic stitches, the classic baby bib is quick and easy to make. It's suitable for babies of all ages, sizes and feeding preferences. A great way to use up scraps of yarn during your next project. This easy-to-make Pattern lets you whip up a great bib when your little one starts eating solid foods. With various colors to choose from, you can make the perfect bib for your unique baby! This bib is an essential part of any baby wardrobe.
Baby Bubble Booties Free Crochet Pattern:
This is an easy beginner crochet pattern. All you need to know is single and double crochet stitches. The basic construction of these baby booties makes them a great choice for new crocheters. These sweet pairs of shoes will surely make your baby stand out! To make the shoes, follow the step-by-step tutorial, and you'll have a completed pair in no time! Make this free crochet pattern today! Featuring a simple design and a clean look, your little one will be the best dressed on the block with these cuties on their feet.
Baby Head Bands:
This is a great way to keep your baby girl's hair out of her little eyes and forehead. They are also the perfect accessory for any outfit, whether you are dressing up your baby for a special occasion or everyday wear. Made with high-quality material that won't irritate your baby's scalp. Waterproof and breathable, you can use them to protect your little one's hair while swimming or going out in the rain. They stay put and keep their ears warm, but they are still comfortable enough for your baby. They're great for keeping hair out of their eyes during playtime, for a special occasion like church, birthdays…or just a lazy day at home.
Easy Striped Crochet Baby Hat Pattern:
This super easy crochet baby hat pattern you can use for any special occasion. It's a quick project and makes for an adorable photo prop! The possibilities are endless for the color combos you can make. The stripes look so fun in this crochet baby hat pattern! This Crochet Baby Hat pattern is simple and quick. You can complete it in a very short time. Anyone can make this hat very easily. This hat pattern only uses basic stitches. This is a simple crochet pattern that beginners can use. It's also a good project for more experienced crocheters looking for something quick and easy.
Medium Cluster Crochet Baby Hat With Flower:
Soft, warm, and cute, this hat will make you love every stitch! With a flower embellished on top, this hat is sure to be a favorite in your little ones' wardrobe. This hat is a masterpiece of your crochet skills. Crochet work is so beautiful and adorable. Beautifully crafted to look like a real flower and placed on top, this crochet hat will be sure to turn heads. The hat can be worn indoors or outdoors and is guaranteed to keep your baby's head warm in the cold. Alternatively, this hat can make a great photo prop on the cake-cutting table at your baby's birthday party.
thefloatinglilypad.wordpress.com
Sweet Chevron Pattern Crochet Baby Blanket: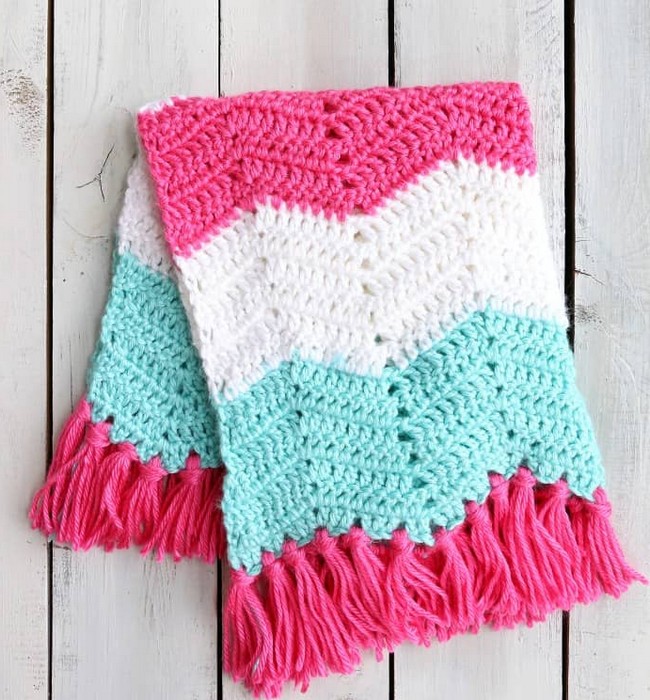 This sweet handmade crochet baby blanket is made with love and is perfect for both boys and girls. It provides warmth for your new little bundle of joy. The blanket is super soft and can be used as a snuggle or play mat. The neutral sweet chevron pattern makes coordinating with any nursery decor easy. This crochet blanket features a sweet chevron pattern that creates a cozy texture for your little one. It's the perfect size for snuggling and keeping them warm. This wonderfully soft and cozy blanket is ideal for newborns, and this sweet crochet baby blanket is perfect for keeping babies warm while they sleep or play.
See More Collections: