15 Free Crochet Fingerless Gloves Patterns
Discover your perfect pair of fingerless gloves with our curated collection of crochet patterns, designed to keep your hands cozy while adding a stylish touch to your winter wardrobe!
Crochet Fingerless Gloves Patterns are a great way to add a fun and gorgeous accessory to your wardrobe. However, they can be expensive, which is incredibly frustrating when completing your wardrobe on a budget! You can use this list of 15 Easy Crochet Fingerless Gloves to make your pair at home. You will crochet these fingerless gloves in multiple sizes to fit you perfectly. Plus, you could also use them as a guide for making adjustments to design your custom glove pattern!
Easy Fingerless Gloves Crochet Patterns
Crochet fingerless gloves will be the perfect addition to your winter wardrobe while providing the latest stylish accessory. You can easily convert these patterns from gloves to mitts or use them as they are! Learn how to crochet fingerless gloves with these free patterns! They're perfect for cold-weather crocheting projects and make great gifts. Whether you're a beginner crocheter or want to refresh your skills, get inspired by these 15 crochet fingerless glove patterns. Keep your hands warm this season while adding extra texture to your look.
Crochet Tri Alpine Fingerless Gloves Pattern
Looking for a fast and stylish crochet fingerless gloves pattern? This Tri Alpine Fingerless Gloves pattern is quick and easy to work up with basic crochet stitches. Perfect for anyone who wants to craft something cute or needs accessories and clothing that can easily be fitted to their hands. This pattern makes an amazing gift or treat for yourself! These crochet fingerless gloves are one size fits all and lined with thumbholes for comfort. Great as a holiday gift or to add extra warmth during the winter months.
Crochet Tunisian Fingerless Gloves Pattern
This crochet pattern is for Tunisian fingerless gloves. Handy as a warm and stylish addition to your wardrobe or an excellent gift. These gloves can be worked with any size yarn if you want them bigger or smaller. Crochet Tunisian Fingerless Gloves with a simple twist that's a perfect beginning crochet project. These gloves are thick, soft, and warm. They're light and comfortable, but keep your hands nice and toasty!
Crochet Cotswolds Fingerless Gloves Pattern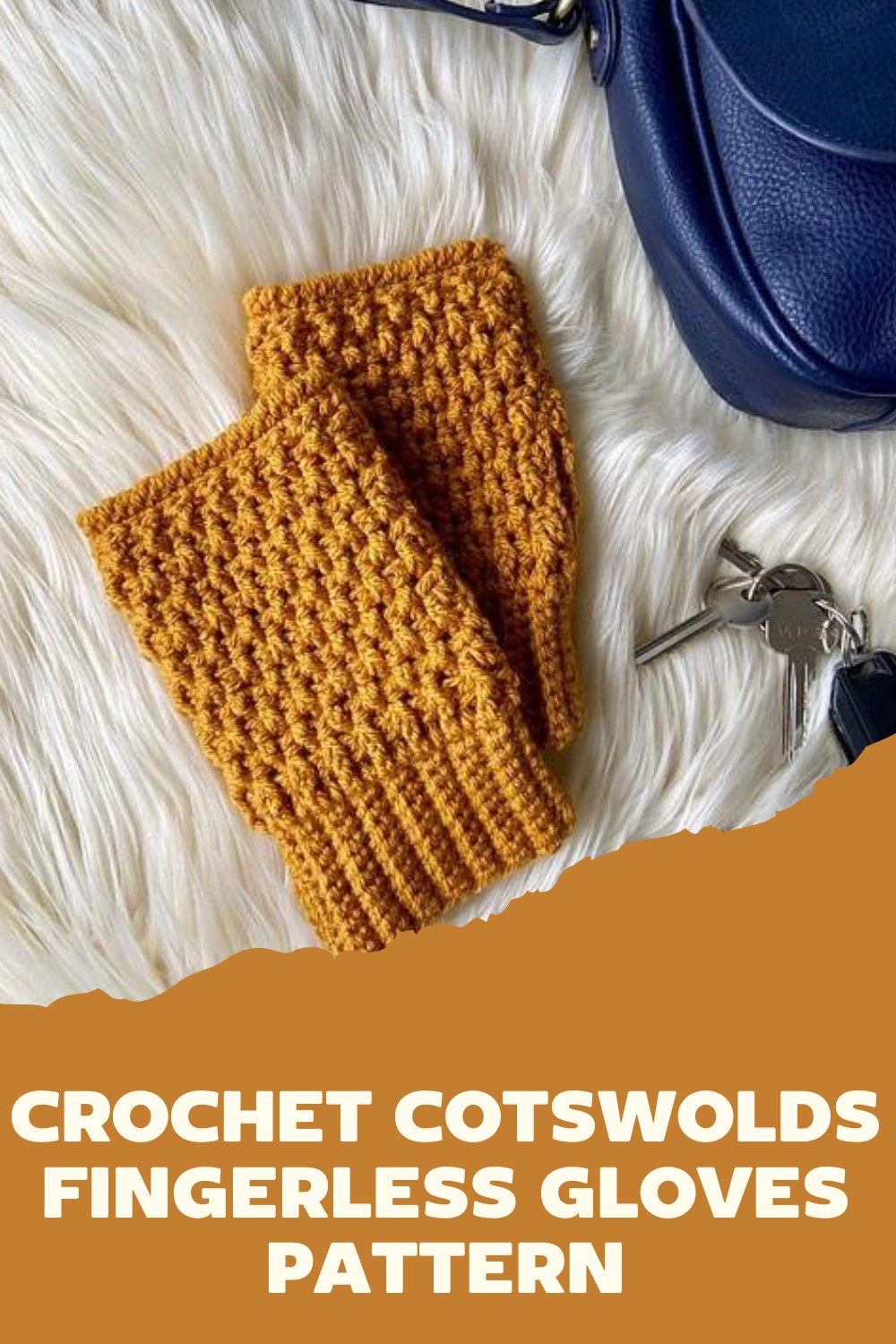 A perfect accessory for cooler weather, this unique pattern will keep your hands warm and provide added protection from the elements. Crochet Cotswolds Fingerless Gloves are a great accessory to wear during summer and keep your hands cool and protected. With an airy mesh design, these crochet fingerless gloves are easy to wear and can be worn while gardening or working in the yard without removing your gloves from the wrist.
Crochet Ridged Fingerless Gloves Pattern
These ridged fingerless gloves are a great way to add a little touch of elegance to your wardrobe. The lace design makes them perfect for the winter or any time you want something different. These stylish and warm crochet gloves are made with soft yarn that is perfect for fall. The ridged design adds dimension to this fashionable accessory. Wear these fingerless gloves when you're out and about or at home, as they also have an open-back design to keep your hands ventilated.
 Crochet Fingerless Gloves Or Wristers Pattern
These Fingerless Gloves Or Wristers hit the mark on all counts. This pattern is easy to make and quick to finish in a bulky yarn with a rattail hook. Perfect for keeping your fingers warm while working with your hands outdoors or driving, you can also use these for housework around the house, cleaning, or crafting. This fingerless gloves or wrist warmers crochet pattern is very versatile; you can make any color you want and use it as an accessory or keep your hands warm on chilly days.
 Crochet Helena Heart Mitts Pattern
If you love heart-shaped motifs, these Helena Heart Mitts will be right up your alley. They're super quick to crochet and easy to customize. A perfect stitch pattern and enough detail make these mitts great for an afternoon project or a gift. Crochet this Helena Heart Mitts pattern with any worsted weight yarn. They are fun and functional for keeping your hands warm during the cooler months! This pattern is so easy that it can be the first project for anyone.
Crochet Adult Fingerless Gloves Pattern
Looking for the perfect pair of fingerless gloves to ward off winter chills? You may want a fun new way to cover up your nails! These simple fingerless gloves can be made any size and are so easy even a beginner can do. Great for gift giving. Made with a worsted-weight acrylic, these warm, fingerless gloves are perfect for any moment of the winter season! With easy-to-follow instructions, this pattern is also great for beginners. So grab your hook and get crocheting!
Crochet Eternal Dawn Fingerless Gloves Pattern
These crochet fingerless gloves will keep your hands warm and protect against the cold. The crochet pattern is easy to follow and will have you crocheting in no time! This crochet pattern will guide you through all the steps of making these stunning fingerless gloves. They are crocheted flat, without seams. These crochet fingerless gloves are the perfect addition to your wardrobe. With simple stitches to create a dramatic effect and easy sizing, it doesn't matter if you're a beginner or an expert; you can make these beautiful garments!
Crochet Spiral Fingerless Gloves Pattern
Looking for the perfect pair of fingerless gloves? Add color to your winter outfits with these crochet spiral fingerless gloves! Get cozy with these Crochet Spiral Fingerless Gloves. They're designed to fit women and men and keep your hands warm while keeping your fingers free to text, type or drink your coffee. These gloves are made with chunky yarn and can be worked up quickly! They make great gifts for just about anyone who likes cozy accessories.
Crochet Duchess Gloves Pattern
A unique crochet pattern, these Duchess gloves are elegant yet comfortable. Made with a simple but striking stitch, this design perfectly complements any outfit. Made with 100% cotton, these soft and stretchy crochet Duchess Gloves are perfect for cold weather. These gloves are great for keeping your hands warm, snug, and comfortable. This pattern is designed for worsted-weight yarn, so you don't have to be a pro at handling finer yarns.
Crochet Double Seed Stitch Fingerless Mitts Pattern
Super-soft Crochet Fingerless Mitts made in the Double Seed Stitch. This great beginner crochet pattern uses only single and double crochet stitches. The double seed stitch adds warmth to these fingerless mitts and makes them look stylish! Make the most of autumn with these easy-to-crochet fingerless mitts. Worked in double seed stitch, they create a cozy texture so you'll never want to take them off. Get the free pattern here!
Crochet Toddler Fingerless Gloves Pattern
These crochet fingerless gloves are a great idea for girls and boys. The design makes it easy to do different color combinations and makes them look cute! These gloves are the PERFECT size for toddlers! They work up quickly and keep your little ones' hands warm while exploring. Fingerless gloves are perfect for your active toddler! Lightweight and easy to wear, these hand coverings offer warmth without bulk. These gloves require minimal sewing and are a relatively quick project – perfect for an afternoon of homework or family time!
Crochet Fingerless Lacy Gloves Pattern
Crochet fingerless gloves are perfect for cold nights when you don't want to cover your fingers but need a little warmth. These crochet fingerless gloves feature a lacy brim and thumb hole, allowing you to use your phone or tablet easily. This pattern uses chunky yarn, so it's great for beginners who want something quick and easy for their first project. The crochet stitches are easy, and you only have to know how to decrease and increase. Once you master that, your gloves will be quick to make!
Crochet Handmade Bts Gloves Pattern
If you love BTS and need a pair of gloves to wear when you're outside, these crochet handmade BTS Gloves are the perfect thing for you! Just in time for the cold weather, these gloves are easy to make and perfect for any climate. Make them as a gift for your favorite BTS fan. Simple and quick crochet gloves pattern, ideal for beginners. These warm, fluffy, and comfortable gloves are also very fashionable. The gloves fit nicely, and you will love their beautiful details.
Crochet Puff Stitch Fingerless Gloves Pattern
These Crochet Puff Stitch Fingerless Gloves are Cozy to keep your hands warm when you're outside and great for the fall and winter. These crochet gloves are so easy to make that you'll be working up your pair quickly. The Puff Stitch Fingerless Gloves Pattern is a great pattern for all types of yarns and makes a perfect gift for Christmas or any other holiday! They're quick to make and use only a small amount of yarn, making them perfect for using up odds and ends around your home.
See More Crochet Patterns:
Infuse your kitchen with flair using our 22 free crochet coaster patterns, ideal for summer soirees or daily use and effortlessly crafted to impress your guests!